How to import blog articles from another WordPress site?
Note: this article only deals with importing articles that were previously exported from another WordPress site, but not the export process. If you are interested in the easiest way to export articles from WordPress (along with featured images), please take a look at this article dealing with it.

Transferring blog articles from one WordPress site to another is easy and can be done successfully by following this guide, even for beginners.
Of course, in order to download blog content from another site, you need to have a .xml file prepared for that purpose on that other site. If you do not have this file and do not know how to prepare it, it is best to look at THIS MANUAL.
Step 1) Firstly, you need to activate the Tools > Import option with the WordPress dashboard.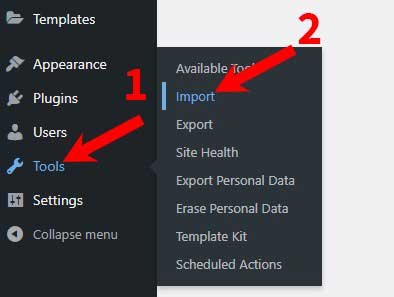 Step 2) Now you probably need to install WordPress Importer. This is done very simply, with a single click on the Install Now option below the WordPress label, on the screen you activated in the previous step.
WordPress Importer is a plugin that was not initially installed along with WordPress on the new site. But if it is installed in the meantime, just skip this and go directly to Step 3.
Step 3) After installing WordPress Importer, you have everything you need on the site to download blog articles from another WordPress site. Now on the same screen click on the Run Importer option below the WordPress label.
Step 4) This will open the following screen, where you need to click on the Choose File button. This will allow you to select (from your computer in the usual way) the .xml file you previously prepared for blog transfer.

Step 5) Once you have done that, the Upload File And Import button will become available to you. Click on it.
Step 6) You only have one step left! On the next screen, click the Submit button. Of course, don't forget to activate the Download and Import File Attachments option beforehand.
Once the articles have been loaded, WordPress will notify you of the successful completion of the work. All you have to do after all is review the new posts on your new website.