A key problem with Minted's Address Assistant is that data cannot be exported from it in a form that is usable in another program.

What is Minted.com Address Assistant?
Minted.com is a service that has existed for more than 15 years and has tens (even hundreds) of thousands of active users. It provides a wide list of services, dominated by the market of design and support services that are often related to weddings. Within that, there is also a section called "Address Assistant", where there are addresses entered by site users – for example, the contact information of wedding guests. Each registered user has his own address book within his Minted account.
What is the main problem with Minted's Address Assistant?
A key problem with Minted's Address Assistant is that data cannot be exported from it in a form that is usable in another program – for example, as an Excel file. For this reason, users who want to use the same (already entered) addresses for some other purpose that is outside of Minted.com, have to keep double records, rewrite them manually, etc. When dealing with a three- or four-digit number of addresses, this is a fiddly and tedious job – and we're never quite sure that two such independent lists match.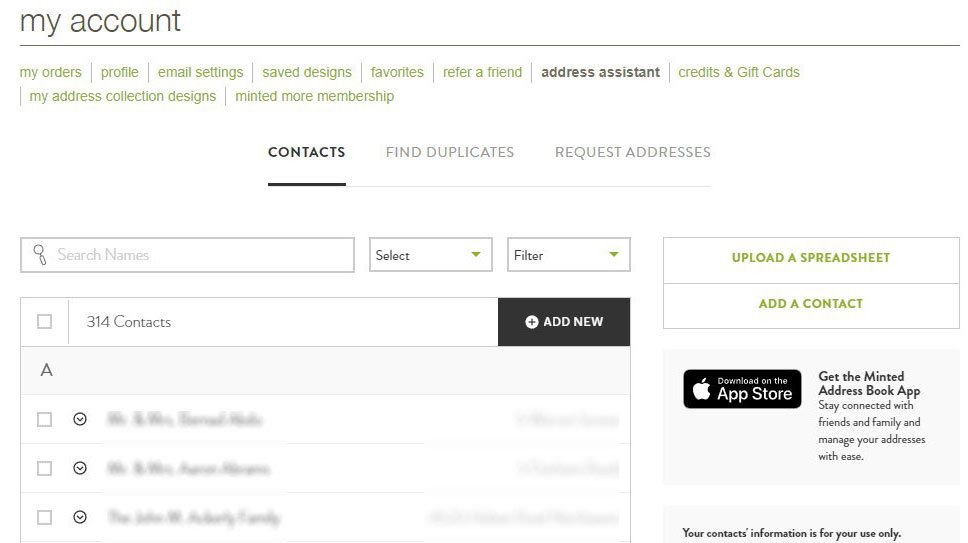 How to taking addresses entered in Minted's address book?
Fortunately, this problem is now solvable. Recently, an external address export service from Minted's Address Assistant has been available. It is a third-party premium service, i.e. it is not free. But for users of Minted's Address Assistant who need their contact information, using this service is definitely worthwhile.
This service can be ordered, realized, and paid for via two platforms – UpWork and Fiverr, by choice. Terms and prices are the same on both platforms. The URLs where you can get to them are:
(Note: the links listed above are NOT affiliate links)
What is the procedure for ordering of fetching (exporting) addresses from Minted.com?
Everything is quite simple. Click on one of the two links above, which will take you to the service offer page. Order the service on that page. When ordering, you will need to specify how many contacts you want to download (ie, how many are in your Minted account), and the final price partly depends on that number. If you don't have an UpWork or Fiverr account, you'll need to register along the way – don't worry, it's a painless, quick, and free process. You will then provide the contractor with your Minted.com account credentials – this is necessary for them to be able to access your personal Address Assistant. If you may be concerned about security and privacy, immediately after this job is done, you can simply change the password.
After this, the developer will perform scraping of your address book. He will clean the received data of unnecessary content that is not intended for human beings, and adapt it for use outside the Minted.com site. The address book itself on Minted's Address Assistant will remain unchanged. The end result will be delivered to you in the form of two files with the same content – so you can use the one that suits your needs better. One file is in Excel (.xls) format, and the other is in the form of a .csv file.
Copies of these files on the developer's side will be removed three days after the job is completed, for reasons of protecting your privacy and the privacy of the persons listed in your Minted's Address Assistant.